Used AWD and 4X4 Drive Vehicles for Sale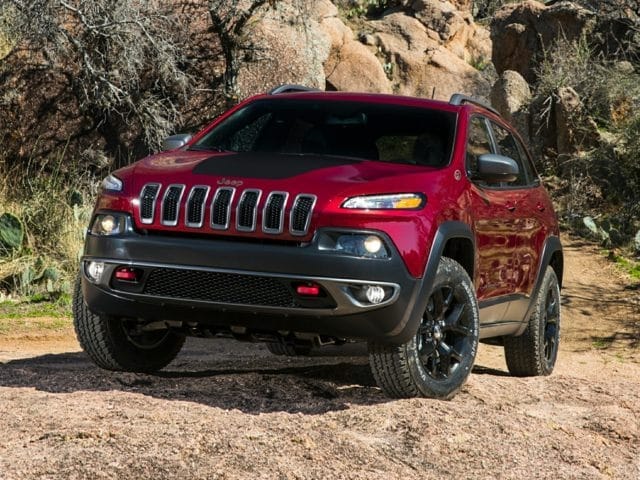 Used AWD and 4X4 Cars and SUVs for sale in upstate New York near Rochester and  Buffalo
Wish you could drive around Upstate New York-from Le Roy to Albion and beyond-with confidence? Then get behind the wheel of one of our used 4WD or AWD vehicles today! Backed by such a system, the models at Pellegrino Auto Sales can overcome challenging terrain and inclement weather more effectively. Not to mention, our everyday low prices keep the cost of buying one affordable, too! Interested? Then this is your chance. Check out the offers now available at our Batavia used car dealership!
Should I drive a used AWD or 4WD in New York state?
There are many benefits to owning an AWD or 4WD vehicle in an all-weather climate like we have here in upstate and central New York state. For instance, our state is home to many outdoor trails. 
Drivers-turned-explorers who want to take the road less traveled will therefore prefer a model such as the Jeep Grand Cherokee which can tackle tough terrain with ease. We have many farms in the region as well, and having a half-ton truck like the Ford F-150 which can maintain its grip while it hauls heavy loads is highly advantageous. 
Not to mention, drivers living around Buffalo and Rochester are naturally exposed to the elements of all four seasons. In winter, for example, we receive plenty of snowfall which can make driving difficult. This is where an AWD or 4X4 systems which is designed to bolster traction can prove especially useful.
Contact Pellegrino Auto Sales on Offers for Used AWD and 4X4 SUVs in Batavia, NY.
As you can imagine, such a reinforcement costs extra on new vehicles. It is for this reason that many choose to buy a used AWD or used 4X4 model instead, and lucky for our customers, we have many in stock at our Batavia used car dealership serving Albion, Rochester, Le Roy and Buffalo, NY! 
With options appearing frequently like the used Jeep SUVs and used trucks like the Chevy Silverado 1500, we know you can find the perfect model for you. Our inventory changes daily, so check often. Browse our deals for your favorite model today!
Hours
Monday

9:00am to 7:00pm

Tuesday

9:00am to 7:00pm

Wednesday

9:00am to 5:00pm

Thursday

9:00am to 7:00pm

Friday

9:00am to 5:00pm

Saturday

9:00am to 4:00pm

Sunday

By Appointment
Where can I find a used SUV for sale in Batavia, Genesee County or upstate New York?
When you're searching for a standout, pre-owned SUV and want some savings in the process, coming in and seeing our variety at Pellegrino Auto Sales is the place to start for those in Batavia, as well as Le Roy, and the greater Buffalo and Rochester areas. Get directions from Rochester to our used car dealership here!
We carry all different types of SUV brands and models which includes the likes of Ford, Chevrolet and Honda, along with luxury brands like Acura and more as well. What you're getting is a diverse lineup that is always seeing different quality used SUVs coming in and out, and with each one you'll find varying model years, mileage and price that you can use to make a determination on what you want from your next used SUV.
At our dealership, you're going to find that when it comes to price, we make sure you're finding standout value, that's because we make sure we find vehicles that are high quality and provide you with plenty of standout driving, and we put our reputation here in the greater Buffalo and Rochester areas on it. Our goal is to make your experience a positive one so you can find a versatile multi-passenger vehicle that can handle both people and cargo inside, provide standout features, and give you confidence as you drive.
What used car dealers near me offer pre-owned SUVs?
While most used car dealerships do carry SUVs, the team at Batavia's Pellegrino Auto Sales really scours and price shops the local market. It's all the more reason to check out our ever-changing variety of SUVs here at Pellegrino Auto Sales. If you have any questions, our team would be happy to provide you with more details, answer any questions and arrange test drives at your convenience.